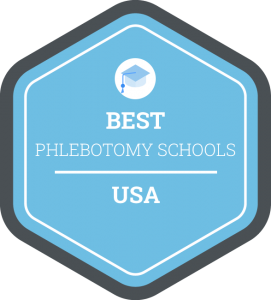 Methodology
Get Ranking Seal
Becoming a phlebotomist is a great way to embark on a medical career – with a short certification process.
Phlebotomy programs are usually designed to guide you through the licensure process, exam, and entry-level employment.
The demand for phlebotomists is strong and is projected to grow an average of 10% in the 10 years from 2021-2031, above the US average.
The median annual wage, per the BLS, for phlebotomists was $37,380 in May 2021.
If you are looking to become a phlebotomist, see the programs and schools below:
---
Sponsored Listings
Featured Online Programs
Sponsored Online Programs.