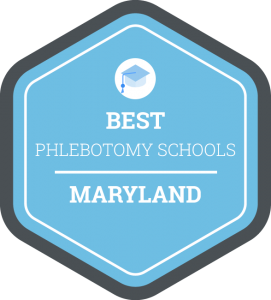 Methodology
Get Ranking Seal
Learning how to safely and correctly draw blood can be the first step towards a rewarding career in healthcare.
According to the Bureau of Labor Statistics, the phlebotomist profession is projected to grow 10 percent by 2031, resulting in about 21,500 openings each year across the United States.
Before being ready to apply for your first position in the field, the first step is to complete a training program and get certified.
This usually takes only a few weeks or months, depending on the school and the program, and gets you ready for entry-level employment.
Most programs include a significant part of hands-on training that expose students to real-life scenarios.
---
Sponsored Listings
---
1

Phlebotomist Training Program
About the School
The Phlebotomist Training Program offers classes designed to prepare students for a career in healthcare.
Weekday and weekend classes are available to help students become certified phlebotomists within three weeks.
Courses Offered
The curriculum includes courses on:
Theory of Phlebotomy- this class offers an introduction to the equipment and techniques commonly used to obtain blood specimens for analysis through self-study modules

The flow of Blood- students learn how to have the patient make a fist and flex the arm and how to pre-warm the region of the vein

Order of Draw- knowing how to collect blood in tubes in a specific order is necessary to avoid cross-contamination of additives between the tubes

Tubes and Anticoagulants- most collection tubes contain an additive that either accelerates the clotting of blood or prevents the blood from clotting

National Certified Exam

Venipuncture on Mannequin and Human
Contact Information
---
2

American Association of Phlebotomy Technicians
About the School
American Association of Phlebotomy Technicians provides high-quality, hands-on Phlebotomy Training to help students prepare for a healthcare career.
Courses Offered
The following certifications are available:
Professional Phlebotomy Certification Exam

Phlebotomy Instructor Practice Exam

Certified Phlebotomy Instructor Exam

Certified Patient Care Technician Exam

Certified Renewals
The Certified Phlebotomy designation prepares students for work in clinical laboratories, hospitals, doctor's offices, blood donation centers, and other facilities.
To qualify for certification, applicants need:
A high school diploma or equivalent

Having completed an AAPT-approved Phlebotomy program within the last two years or having one year of verifiable experience as a full-time phlebotomist.
The American Association of Phlebotomy Technicians provides a Phlebotomy Technician course available in evening and weekend schedules.
The evening program can be completed in four weeks with classes taking place Tuesdays and Thursdays from 4:45 p.m. to 8 p.m.
The program costs $599.
An optional clinical externship is also available.
Students need prior training or education in allied health professions such as CNA, EKG technician, Medical Assistant, EMT, or other healthcare professionals.
Contact Information
Address:

 6615 Reisterstown Rd STE LL2, Baltimore, MD 21215

Phone:

 410-347-1433

Website:

 

https://aaopt.net
---
3

Stein Academy
About the School
Stein Academy offers health, technology, and career development programs.
The career school is approved by the State of Maryland.
The academy offers courses in a variety of programs, including Certified Nursing Assistant, Nurse Tech/Patient Care Tech, Phlebotomy Tech, Pharmacy Tech, EKG Tech, and Medical Assistant.
Courses Offered
The Phlebotomy Technician program is a private career school approved by the State of Maryland and the Maryland Board of Nursing.
The academy is dedicated to training students in the fields of technology, medical, and allied health careers.
The program is based on 60 hours of classroom and laboratory instructions.
A minimum successful venipuncture and heel/capillary sticks are required for graduation.
All venipuncture and sticks are completed in-house on the school's premises.
Prospective students must meet requirements such as:
Pass a pre-admission test or provide proof of successful completion of high school education

Hold a Social Security Number or a U.S. Immigrations Number and Photo ID

Submit proof of a negative Tuberculosis test taken within the past six months or, if positive in the past, submit a chest X-ray report noting the absence of active TB

Provide proof of immunizations

Be at least 17 years of age
Contact Information
---
4

Integrated Health TW LLC
About the School
Integrated Health TW LLC offers medical training programs designed to expand the knowledge and skills of currently employed healthcare professionals through medical training.
The school provides interactive classes, activities, supplemental reading materials as well as experienced instructors.
Courses Offered
The school provides the following programs: Phlebotomy, Medical Assistant, Medical Billing & Coding, and IV Therapy.
Students can register for classes online, by visiting the school's website.
They need the following supplies for class: a dark gray scrub set, notebook, and blood pressure/stethoscope set.
Contact Information
---
5

Quality First Career Center

About the School
Quality First Career Center offers a variety of training courses designed to help students acquire the knowledge and skills needed to meet job requirements and become confident in using them in the workplace.
The school aims to assist students in getting jobs in their preferred healthcare settings.
Quality First Career Center is a privately owned for-profit minority school incorporated in the State of Maryland.
The school provides training programs for aspiring healthcare professionals.
Programs are available in the Baltimore/Washington Metropolitan Areas.
Courses Offered
The Phlebotomy program available at the center prepares students responsible for drawing blood specimens necessary in various situations.
The training takes 340 hours to complete.
The following programs are also available at the school:
Certified Nursing Assistant

Certified Nursing Assistant to Geriatric Nursing Assistant

Certified Medication Technician

Cardio-Pulmonary Resuscitation

First Aid

Consulting & In-Service
Contact Information
Address:

 6475 New Hampshire Avenue, Suite 501 Hyattsville, Maryland 20783

Phone:

 301-270-5105

Website:

 

http://www.qfccinc.com
---
6

Northwest Phlebotomy School

About the School
Northwest Phlebotomy School provides phlebotomy training programs in Baltimore, Maryland.
The training and certification programs range from one to three days in length.
The hands-on training experience focuses on one-on-one training in a small group setting.
Classes blend lab and lecture.
Courses Offered
The following courses are available at Northwest Phlebotomy School:
Phlebotomy Course

IV Certification Course
The Phlebotomy Training Course provides students with experience in using a variety of venipuncture techniques.
The three-day program prepares students for employment by covering safety practices in the phlebotomy field and exposing students to a variety of demographics.
To enroll, students can choose to pay a $150 deposit to secure their place or pay in full.
The curriculum covers blood collection (anatomy & physiology, performing phlebotomy, and special consideration), safety in the field (preventing needlestick injuries, principles of infection control, and preventing bloodborne pathogen transmission), and a practical exam.
Contact Information
---
7

Dymanic Phlebotomy & CPR
Dynamic Phlebotomy & CPR helps students become National Certified Phlebotomy Technicians in four weeks.
Courses Offered
The four-week Phlebotomy workshop available at Dynamic Phlebotomy & CPR costs $1,150.
Classes begin every first Monday of each month.
Morning classes take place from 8 a.m. to 11 a.m. while evening classes take place from 5 p.m. to 8 p.m.
Weekend classes are also sometimes available and take place from 10 a.m. to 2 p.m. on Saturdays and Sundays.
A Phlebotomy + EKG program is also available and costs $1,450.
Students must make a deposit of at least $250 to reserve a spot.
An externship is available upon completion of the course.
After completing the workshop, students will take a written exam to become a National Certified Phlebotomist.
The school is a National Testing Site.
Contact Information
---
8

All About Learning Phlebotomy School
About the School
All About Learning Phlebotomy School offers a hands-on program that provides students with practice in the study of phlebotomy.
Students learn how to prepare, collect, and process blood samples for laboratory analysis.
Some of the techniques covered by the program include basic anatomy, physiology, venipuncture, and capillary sticks.
Courses Offered
The Phlebotomy Workshop program available at the school costs $599.
The program can be completed in five weeks.
Students need a high school diploma/GED and they must be at least 18 years of age.
Previous work experience in a healthcare profession is preferred.
The $300 deposit is required.
The weekend course takes place on Saturday and Sunday from 10:30 a.m. to 1:30 p.m.
A second class is also offered from 3:30 p.m. to 7:30 p.m.
Contact Information
Address:

 5471 Baltimore National Pike, Baltimore, Maryland 21229

Phone:

 (443) 881-3582
---
9

Health and Heart Training Center
About the School
Health and Heart Training Center offers virtual or in-person continuing education and learning experience.
The center provides online and in-person training programs.
Phlebotomy workshops, BLS, CPR & First Aid, Resume workshops, and CEUs for health professionals.
Courses Offered
The Phlebotomy workshops available at Health and Heart Training Center are eight-week long and teach students the knowledge, procedures, and skills necessary to draw blood and other specimens associated with the steps involved in a medical setting.
Students spend three weeks online and five weeks in-person skill check-off.
A re-certification Phlebotomy workshop is also available and lasts two days.
The workshop focuses on topics such as:
Anatomy and Physiology

Medical Law & Ethics

HIPPA

Confidentiality in Phlebotomy

Medical Terminology

Patient Interaction

Technique

Equipment

Safety and Universal precautions
Contact Information
Address:

 1901 Brightseat Road, Landover, MD 20785

Phone:

 202-200-7170
---
10

Care Health Phlebotomy Training and More
About the School
Care Health Phlebotomy Training and More helps students become Certified Phlebotomists.
The school also provides Phlebotomy Certification and Phlebotomist Continuing Education Classes.
Students graduate in as little as seven weeks and leave with a National Phlebotomy Certification.
Graduates are ready to start a new career.
The full program cost for the Phlebotomy course is $900.
This includes hands-on training, pdf books, exam fees, student support, job placement assistance, and more.
The school also provides BLS/CPR and a course on Blood Borne Pathogens.
The Certified Phlebotomy Tech Certification Renewal class costs $150 and is available online.
Contact Information
---
Regional Salary in Maryland
| Region | Employed | Avg. Annual Salary | Avg. Hourly Pay | Top 10% Annual Salary | Bottom 10% Annual Salary |
| --- | --- | --- | --- | --- | --- |
| Baltimore-Columbia-Towson, MD | 1,520 | $43,000 | $20.67 | $49,990 | $34,420 |
| Cumberland, MD-WV | 60 | $34,570 | $16.62 | $37,100 | $30,750 |
| Hagerstown-Martinsburg, MD-WV | 70 | $40,410 | $19.43 | $45,090 | $32,060 |
| Salisbury, MD-DE | 150 | $39,200 | $18.85 | $46,920 | $36,240 |
* Salary information based on the May 2022 Occupational Employment Statistics (OES) Survey for Phlebotomists, OCC Code 31-9097, BLS.
* Employment conditions in your area may vary.
Final Thoughts
Now that you have read our selection of the best phlebotomy schools in Maryland, the next step is to decide if this profession is a right fit for you and apply for the program that best meets your needs.
This is an important decision, so make sure you gather information about all the relevant factors.
Featured Online Programs
Sponsored Online Programs.