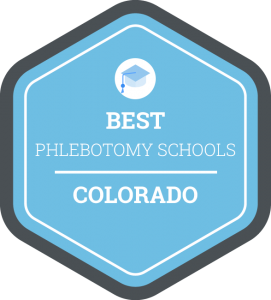 Methodology
Get Ranking Seal
According to the United States Bureau of Labor Statistics, the average annual wage reported by Colorado phlebotomists was $40,500 as of May 2022, higher than the national average for this profession.
Before being ready to apply for your first position in the field, you have to complete a post-secondary training program and pass the exam that will make you a licensed phlebotomist.
The training programs can usually be completed in just a few months and combine classes on subjects such as anatomy, safety, and bloodborne pathogens with hands-on practice.
To help you choose the program that best meets your needs, on this page we have compiled information about the best phlebotomist schools in Colorado.
If this is the path you want to pursue, we invite you to read our list and continue with your own research before deciding where to enroll.
---
Sponsored Listings
---
1

Phlebotomy Training Specialists

About the School
Phlebotomy Training Specialists is a phlebotomy school that provides a Training & Certification program designed for students who want to start a career in the healthcare field.
The school has a campus in Colorado Springs and one in Denver.
Day, evening, and weekend schedules are available monthly to fit different schedules.
The curriculum is designed to help students pass the National CPT Exam.
Students spend 16-24 hours during the training immersed in intensive, hands-on instruction.
After graduation, students can find employment opportunities in a variety of healthcare settings, including plasma donation centers, medical clinics, blood banks, health fairs, dialysis clinics, hospitals, and laboratories.
The total cost for this program is $1,025 and includes a $910 tuition and a $115 National Exam Fee.
Students pay a $100 deposit to guarantee their seat in the class of their choice.
The national a.m. class takes place Monday to Thursday from 9 a.m. to 1 p.m.
The evening class takes place from 6 p.m. to 10 p.m. from Monday to Thursday, while the weekend class takes place on Saturdays from 8 a.m. to 4:30 p.m.
On the last day of class, students can choose to take the National Exam.
If they pass the exam, students will be certified to work anywhere in the country.
To qualify for admission into this program, applicants must complete the following requirements:
Be 18 years of age or older

Be a high school graduate or equivalent
Previous experience is not required.
Contact Information
Address: 

2930 Austin Bluffs Parkway, Suite #103, Colorado Springs, CO 80918

Phone:

 844-931-1348
---
2

Oquirrh Mountain Phlebotomy School
About the School
Oquirrh Mountain Phlebotomy School LLC provides phlebotomy certification training at its location in Englewood, Colorado.
Students enrolled in this program attend a five-day Monday to Friday hands-on training course that takes place from 2 p.m. to 5 p.m. or 6 p.m. to 9 p.m.
The program includes 15 hours in total and is followed by a short homework assignment that students receive during the class.
The course meets the national-level phlebotomy certification status with the National Phlebotomy Certification Testing.
The school provides phlebotomy as well as IV, EKG, and HIV/Aids courses.
So far, according to their website, the school has helped more than 1,200 students meet their employer's requirements.
Courses Offered
The Phlebotomy curriculum covers topics such as HIPAA, OSHA, Patient Rights, Venipuncture, Order of Draw, Professionalism, Special Procedures, Patient Reactions, Hard Blood Draws, CLSI Standards, and Job Opportunities.
Contact Information
---
3

Stillwater College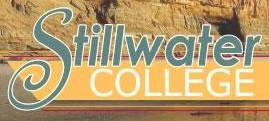 About the School
Stillwater College provides training programs for students who want to start rewarding careers in healthcare.
Courses Offered
The Phlebotomy Technician program available at the college offers classes twice per week in morning and evening schedules.
This program can be completed in three months and includes 50 hours of externship at the labs around the Denver metro area.
The responsibilities taught in this program include:
Collecting timed specimens

Date and record the blood specimen tubes collected

Match all laboratory requisition forms and specimen tubes

Follow all laboratory safety rules

Order and process informing supplies

Maintain phlebotomy area clean and stocked with supplies

Keep blood drawing trays neat, and clean

Perform other duties, including data collection, filing, charging, aiding technologists

Report possible hazards to the Laboratory Supervisor
Morning classes take place Monday and Friday from 9 a.m. to 2 p.m.
Weekend classes take place Saturdays from 9 a.m. to 3 p.m.
Evening classes take place Monday and Friday from 4 to 9 p.m.
Contact Information
---
4

Northwest Phlebotomy School

About the School
Northwest Phlebotomy School provides phlebotomy training programs.
The training and certification program offered at the school ranges from one to three days in length.
The hands-on training experience included in the Phlebotomy training program focuses on one-on-one training in a small group setting.
Classes blend lab and lecture.
Courses Offered
The following courses are available at Northwest Phlebotomy School:
Phlebotomy Course

IV Certification Course
The Phlebotomy Training Course provides students with experience in using a variety of venipuncture techniques.
The three-day program prepares students for employment by covering safety practices in the phlebotomy field and exposing students to a variety of demographics.
To enroll, students can choose to pay a $150 deposit to secure their place or pay in full.
The phlebotomy curriculum covers classes on blood collection, including anatomy & physiology, performing phlebotomy, and special consideration, safety in the field, with classes on the prevention of needlestick injuries, principles of infection control, and preventing bloodborne pathogen transmission, and a practical exam.
Contact Information
---
5

Apl Med Academy
About the School
Apl Med Academy provides training programs for students who want to start careers as Certified Nursing Assistants, Phlebotomy Technicians, or Dental Assistants.
Courses Offered
The Phlebotomy Technician program teaches students how to:
Obtain specimens

Collect blood by venipuncture or capillary puncture

Handle specimens

Proper labeling, sorting, and preparation of samples for testing

Communication skills

Emergency procedure
Students learn through hands-on training by a certified phlebotomist instructor.
They also participate in an unpaid externship where they gain real-life experience before finding a job.
The maximum class capacity is limited to eight students.
Tuition is $1,000 and includes everything.
The course can be completed in eight weeks.
The school also provides Medical Assisting, EKG/Cardiology Technicians, Medical Billing & Coding, Administrator/Manager Training, CPR/BLS classes, and more.
Contact Information
Address:

 2600 S Parker Rd Bld 6-300, Aurora CO, 80014

Phone:

 (303) 752 0000

Website:

 

https://aplmed.com
---
6

Pima Medical Institute
About the School
Pima Medical Institute offers training programs at its Denver campus since 1988.
Students get ready for a variety of roles in healthcare, including dental and veterinary medicine, radiography, and medical assisting.
The Denver campus offers seven certificate programs, five associate degree programs, and an Expanded Duties Dental Assistant course.
Courses Offered
The Medical Assistant program available at the institute can be completed in nine months and focuses on anatomy, routine laboratory procedures, and frequent patient care procedures.
The clinical duties include collecting and preparing lab specimens and performing lab tests.
The clerical duties covered by this program are:
Welcoming patients

Answering phones

Scheduling appointments

Filing patient records

Filling out insurance forms

Handling billing

Navigating computer billing and applications
The program also offers a hybrid learning option designed for students who need additional flexibility in their schedules.
The Medical Assisting program is also available in Aurora and Colorado Springs.
Contact Information
Address:

 7475 Dakin Street, Denver, CO 80221

Phone:

 800-477-PIMA

Website:

 

https://pmi.edu
---
7

Pueblo Community College
About the School
Pueblo Community College provides more than 70 programs that cover a wide range of career paths, from automotive to software development.
The courses are guaranteed to transfer to any public four-year school in Colorado, helping students save in tuition costs.
Tuition is $156.40 for resident students with COF and $260.40 for resident students without COF.
Courses Offered
The Phlebotomy Technician program available at Pueblo Community College prepares students with the skills needed to collect and process patients' blood samples.
The program trains students how to work as part of a laboratory team, teaches them how to draw blood for diagnostic medical tests, and how to keep careful records of blood tests.
Students prepare for work in hospitals, physician offices, independent laboratories, and health maintenance organizations.
The one-semester three-course program covers venipuncture, finger puncture, quality control, infection control, safety procedures, and clinical experience.
Students learn through a variety of learning experiences, including lectures, lab, and clinical hours.
They complete class lectures, simulated labs, and a clinical internship to perfect their drawing skills and prepare for the workforce as a qualified phlebotomist.
After completing the program, graduates are ready to take the National Phlebotomy Registry Exam.
Contact Information
---
8

Aims Community College
About the School
Aims Community College offers small classes and a big community.
More than 200 degrees and certificates are available to help students prepare for careers in a variety of in-demand fields.
Aims Community College is accredited by the Higher Learning Commission.
Courses Offered
Among many other programs, the college provides a Phlebotomy certificate that prepares students with the skills that help them enter the workforce quickly in a medical office, clinic, or another similar healthcare setting.
Phlebotomy students learn the skills to become a phlebotomist at a hospital, clinic, lab, or medical practice.
The phlebotomy course includes four credits and covers the duties associated with the practice of venipuncture, capillary puncture, and special collection procedures.
The course also provides experience in quality control, infection control, safety procedures, and laboratory computer systems.
In total, the certificate includes eight credits.
Contact Information
---
9

IBMC College
About the School
IBMC College offers a variety of training programs at its Fort Collins campus.
The campus is located just west of South College Avenue at the corner of Colboard Drive and Mason Street.
Courses Offered
The following programs are available at the college:
Clinical Medical Assisting Diploma

Dental Assisting Diploma

Cosmetology Diploma

And more
The Clinical Medical Assisting Diploma program can be completed in 10 months and covers instruction in medical terminology, medical office procedures, medical clinical procedures, as well as basic anatomy and physiology, and pharmacology.
Students work in labs while learning skills such as: taking vitals, injections, preparation of lab specimens, equipment sterilization, dressing changes, suture removal, casting, and EKGs
The course also provides students with the opportunity to test for the following certifications:
Nationally Certified Medical Assistant

Nationally Registered Phlebotomy Technician

Basic Life Support
Contact Information
Address:

 3842 S Mason Street, Fort Collins, CO 80525

Phone:

 (970) 223-2669

Website:

 

https://ibmc.edu
---
10

IntelliTec College
About the School
IntelliTec College offers automotive, beauty, healthcare, & electrical technician career training in Pueblo, Colorado.
The programs are designed to prepare students for new careers in four weeks to 19.5 months, depending on the program.
The college has campuses in Albuquerque, Colorado Springs, Grand Junction, and Pueblo.
IntelliTec College is accredited by the Accrediting Commission of Career Schools and Colleges.
Courses Offered
The college's catalog includes a Medical Assistant program that can be completed in 12 to 18 months.
Students learn a variety of skills, including how to record patient histories and other personal information, measure vital signs, schedule appointments, prepare blood samples for lab tests, and help physicians with patient exams.
The curriculum includes courses such as:
Introduction to Medical Assisting Front Office- students learn how to schedule patients, maintain medical records, determine insurance coverage, and more

Cardiovascular/Respiratory/Endocrine/Lymphatic/Immune- students learn about the anatomy and physiology of the cardiovascular system

Medical Assistant Certificate Program Externship

And more
Tuition for the Medical Assistant program is approximately $21,995.
Contact Information
---
Final Thoughts
If you want to start a rewarding career in the healthcare field, taking phlebotomy classes can be a great start.
Colorado provides plenty of training opportunities for high school graduates and adults who want to start a career in this field.
Now that you have read our list of the best ten phlebotomy schools in Colorado, the next step is to continue the research and choose the format that best meets your needs, learning style, and career aspirations.
Featured Online Programs
Sponsored Online Programs.