Everyone knows that the majority of jobs out there are quite stressful, and the employees dread going to work.
On top of being full of stress, those jobs may not even pay that well.
But what if we told you you can find a minimum of 13 fun jobs that pay well too?
Read on!
---
---
Featured Online Programs
Sponsored Online Programs.
Pet Groomer
Being a pet groomer is one of the jobs where you can have a lot of fun because you interact with animals all day long.
Pet groomers earn around $27,000 a year, but the amount can go as high as $38,000 per year based on experience and certifications.
This translates to around $13 and up to $18 per hour.
For this, you're expected to:
Correctly identify animal breeds and the correct grooming procedures
Inspect the animal for any possible issues
Keep the animal under control
Dog Trainer
Maybe you really like dogs and you can make them listen to you.
This could be a sign that a career as a dog trainer might be for you.
There are no strict regulations when it comes to this fun and rewarding occupation, but there are classes and certifications you should consider getting.
Job duties include:
Teach dogs various commands
Teach dog owners the correct methods for rewarding or punishing their dogs
Such a job pays around $17 hourly and $36,000 annually.
Antiques Appraiser
This job sounds ideal for someone who likes old items and is not bothered much by dust.
There are no specific requirements as far as education goes for this occupation.
You'll need to be mentored by an experienced appraiser and be part of an appraisal society.
You can earn about $25 an hour or around $40,000 per year.
Antique appraisers usually:
Inspect items
Decide their value
Work part-time
It's possible for these professionals to get specialized in a particular type of old items.
Sommelier
Wine lovers might just have discovered an ideal job as sommeliers are experts when it comes to wine.
You'll need to work a minimum of 2 years in a restaurant and then become certified.
Certified sommeliers have a salary of about $62,000 per annum.
These professionals will:
Recommend the best wine for the meal
Explain its origins and what makes it special
You're likely to work late into the night, though your shift will also start later in the day or even in the evening.
Chef
If you prefer food to wine, like to cook, and come up with new recipes, perhaps you can become a chef.
You'll need to first work in a kitchen first, to get a feel for how the atmosphere is, and attend some culinary classes.
Because there are many types of businesses hiring chefs, it's rather difficult to tell you how much you'll be earning.
This will also depend on your experience, the type of food you specialize in, and your actual position among the kitchen staff.
Your salary can start at around $25,000 a year and can easily reach 6 figures.
Hair Stylist
Perhaps the kitchen is too hot of an environment for you, and you like your hair to always look the best it can.
Hairstylists only need a high school diploma or GED and then specialized training in the field.
Training usually doesn't end when the license is issued.
These professionals earn around $14 an hour, totaling about $30,000 a year.
Of course, these numbers depend on many different factors, especially the salon you work for.
This profession offers the possibility of working with celebrities, for fashion shows, and much more.
Esthetician
This is another profession that can get you to work with celebrities if this is something you're interested in.
The occupation itself is rather new and only in recent decades, it saw rapid growth while demand doesn't seem to stop.
You could be a basic or a medical esthetician, and your duties, as well as the procedures you're allowed to perform, will be different.
Basic estheticians earn around $39,000 per year whereas medical estheticians see salaries averaging at around $49,000 per year.
Training and certification will depend on the area you live in as well as the type of esthetician you want to become.
Travel Agent
Being a travel agent is fun because you actually get to travel.
This is usually done for business purposes and to be able to better help your customers.
You don't really need any special education for this position, though many agents do earn a degree in tourism.
Your duties will include:
Making travel arrangements for clients, according to their needs and budgets
Negotiating travel packages
Verifying travel documents and payments
These professionals can earn around $45,000 annually or $21.5 hourly.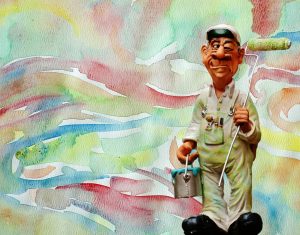 House Painter
Painting your house can be very fun, but you can't repaint it every single day.
How about getting paid to paint other people's houses?
Speaking of this, you can expect to receive $45,000 a year or $21.5 an hour.
This job entails the following:
Removing old coatings of paint
Apply paint according to the client's wishes
Cleaning the job-site
You don't need much education for such an occupation, but training as an apprentice is highly recommended.
Make sure to pay attention to your area's or state's prerequisites as far as certification goes.
Wedding Planner
Weddings are supposed to bring joy to the couple getting married but also to those witnessing it.
However, planning and preparing a wedding can be quite stressful though also fun.
You'll be in charge of:
Meeting with vendors
Arrange wedding supplies
Make sure the wedding day goes according to the plan
As a wedding planner, your managerial and communication skills will be put to the test.
For your efforts, you can expect to earn on average $55,000 per year or $26.4 hourly.
Carpenter
Working with wood can be really fun, though you'll have to be careful when using the tools specific for this occupation.
You'll have to complete an apprenticeship and possibly earn a certificate before being able to work.
Carpenters usually do the following:
Read and interpret blueprints
Create doors, windows, walls, furniture, and more
Hang doors, skirting boards, cupboards
This career may allow you to work near celebrities as well, depending on where you work and what the project is.
Carpenters make on average $53,000 a year, translating into an average of $25.4 an hour.
Truck Driver
Truck drivers usually transport freight but this job is full of responsibilities.
The fun part is being paid to drive and oftentimes, you'll have to drive across more states, thus there's a traveling aspect related to the job.
You don't only need the appropriate driving license, but you will also need some certifications.
Your responsibilities will include:
Keeping vehicles in good working condition
Logging correct and legal hours and miles according to federal law
Keeping driving logs and schedules
Annually, these drivers can earn about $47,000 or $22.5 hourly.
Appliance Repair Technician
Perhaps you always liked taking things apart and putting them back together, or even repairing old and broken things.
As an appliance repair technician, you can turn your hobby into a paid gig.
You'll need some training and certifications for certain appliances, such as fridges.
Responsibilities include:
Installing, maintaining, repairing appliances of all sizes
Keeping accurate records
Fixing or replacing faulty pieces
These techs earn on average $42,000 a year, or $20 an hour.
Conclusion
It's easy to see that many of the occupations we presented allow you to either work for an established business or become self-employed.
Being self-employed can be more fun because you get to decide your clientele as well as your work hours.
Most of these jobs require certification for which a high school diploma or GED is mandatory.
Featured Online Programs
Sponsored Online Programs.