Santa Fe is home to reputable trade schools that can prepare you for a rewarding career in less than two years.
Vocational training is usually less expensive and more career-focused, preparing students for employment or licensing exams immediately after graduation.
Whether you're a high school senior, a recent graduate, or an adult who's looking to learn a new trade, there are plenty of educational options you can choose from.
On this page, we have compiled information about the top schools available in Santa Fe and the nearby region.
---
---
Featured Online Programs
Sponsored Online Programs.
---
1

Vogue College of Cosmetology

About the School
Located in downtown Santa Fe, Vogue College of Cosmetology offers educational programs that prepare future beauty professionals.
The school has a low student to instructor ratio, so each trainee receives individualized attention.
Educators work with students in the classroom, as well as in the salon and spa.
Tuition is $8,000 for the Esthetician program and $15,500 for the Cosmetologist program.
Registration is $25.
Students also have to pay a $203 state board exam fee, $1,600 for the Esthetician books and kit, and $854 taxes for the Esthetician program.
Books and kits sum up to $2,000 for the Cosmetologist program, while taxes are $1,478.67.
The school offers financial aid to eligible students.
Courses Offered
The following programs are available:
Cosmetology Program- a program that prepares students for careers as hair and nails professionals.
The program covers topics related to:
The latest hair trends

Hair textures

Art nails techniques

Facials, makeup, and other modern skincare techniques

Retailing products for major brands

Career development
Esthetics Programs- this program prepares students who can perform facials, waxing, massage, and many other techniques.
Contact Information
---
2

Santa Fe School of Cooking
About the School
Santa Fe School of Cooking is a culinary school located in downtown Santa Fe.
The school offers hands-on cooking classes, demonstration classes.
Costs range between $80-$120, depending on the program.
Those interested can find out what courses are available each week by visiting the school's website.
Courses Offered
The school offers classes that are available several times per week and include menus in traditional New Mexican, Native American, Mexican, Spanish, vegetarian, and Southwestern cuisine.
Classes last around three hours and are available in both hands-on and demonstration formats.
Below are a few examples of classes available at Santa Fe School of Cooking:
More Tamales- a class that teaches students how to make traditional tamales

Green Chile Workshop- a class that teaches students how to use New Mexico's official state vegetable

OKeeffe- a cooking class inspired by Georgia O'Keeffe

SW Brunch- students learn how to make an energizing meal using local products and traditions

Rellenos- a class that teaches students how to make three different types of chiles Rellenos
Contact Information
---
3

Bodymechanics School

About the School
Body mechanics School of Massage provides training programs for those who want to become licensed massage therapists.
The program costs approximately $16,200 in total, which includes tuition, enrollment fee, and sales tax.
The courses are available in morning classes from 9 a.m. to 1 p.m. and in evening classes, from 6 p.m. to 10 p.m.
Students also have to attend 30 massage labs throughout the program.
Labs are held on Monday from 9 a.m. to 1 p.m. (for morning students) and on Fridays from 6 p.m. to 10 p.m. (for evening students)
The program focuses on teaching:
Outstanding massage techniques

Marketing tactics

Communication skills

Critical Thinking Skills.
Payment plans are also available.
Courses Offered
The curriculum covers topics on:
Anatomy, Physiology, and Pathology

Kinesiology

Massage Therapy and Practice

Pathology and Treatment

Clinical Business, Ethics, and Communication

Student Clinic

Massage Labs
The program includes 788 hours of training in total.
Students have to attend at least 85 percent of the classes with grades that are at least 75 percent on average.
Contact Information
---
4

Institute of American Indian Arts
About the School
Institute of American Indian Arts offers a variety of educational programs at their 140-acre campus in Santa Fe.
Institute of American Indian Arts is one of 37 tribal colleges located in the United States.
The Institute is accredited by the Higher Learning Commission and is a member of the American Indian Higher Education Consortium.
Full-time United States resident students pay a tuition of $2,343.
The online-only tuition is $1,758 per semester.
Courses Offered
The Institute the following academic programs:
Cinematic Arts and Technology

Creative Writing

Low Residency MFA in Creative Writing

Master of Fine Arts in Cultural Administration

Indigenous Liberal Arts

Museum Studies

Performing Arts

Studio Arts

Low Residency Master of Fine Arts in Studio Arts
Online Certificate programs are also available in the following fields:
Business and Entrepreneurship- a program designed for students who want to combine business principles and practices into their work

Museum Studies- certificate programs that are available on campus and online and include 30 credits

Native American Art History- an interdisciplinary program that focuses on cultural exchange.
Contact Information
Address:

 83 Avan Nu Po Road, Santa Fe NM 87508

Phone:

 (505) 424-2300

Website:

 

https://iaia.edu
---
5

IntelliTec College
About the School
IntelliTec College offers post-secondary training programs at its Albuquerque Campus.
The college's campus covers more than 28,000 square feet of space and provides programs that focus on hands-on training.
IntelliTec College is accredited by the Accrediting Commission of Career Schools and Colleges.
Courses Offered
The following programs are available in Albuquerque:
Automotive Technician

Computer Systems Technician- a program that takes 12 to 19 months to complete and prepares students for employment as Information Technology Associate, Help Desk Support Specialist, Network Technician, Network Administrators, Mobile Device Specialist, and other related professions.

Massage Therapy- a nine-month hands-on program that prepares students for employment in spas, beauty salons, health clinics, sports clinics, hospitals, physical therapist offices, fitness centers, and many other settings

Medical Assistant- a 12 to 18 month-long program that teaches students useful medical assisting skills, such as:

Scheduling patient

Maintaining records

Pharmacology drug classifications

Drug calculations and administration

Phlebotomy

Care, treatment, and understanding of illnesses

CPR and First aid

Electronic medical records application

Developing OSHA, HIPAA, and blood pathogen knowledge
Contact Information
Address:

 4575 San Mateo Blvd NE, Suite K, Albuquerque, New Mexico 87109

Phone:

 (505) 508-5225
---
6

Precision Approach

About the School
Precision Approach offers aircraft management, professional pilot services, and advanced flight training.
Courses Offered
The following advanced training programs are available:
High Altitude Training- the school has all the necessary oxygen equipment to operate safely at high altitudes and provides students with the training they need to be safe in the rare air.

Instrument Rating- pilots with an instrument rating usually show a higher level of precision and can operate at night in challenging weather conditions
The Instrument Rating training helps students learn all phases of an instrument rating, including flight planning, ATC clearances, en route operations, departure procedures, and instrument approaches.
Students can train in their airplane or a steam-gauge Cessna 172.
Instrument Proficiency Check- this program includes acting out a complete instrument flight scenario from checking the weather to reacting to situations where things don't go as planned.

Mountain Flight Instruction- the program reviews weather patterns specific to the mountains, teaches students how to work around terrain that exceeds the airplane's service ceiling, oxygen use, takeoff at altitudes of more than 10,000 feet, and other useful skills.
Contact Information
---
7

Santa Fe Community College
About the School
Santa Fe Community College provides post-secondary training programs that can lead to a certificate or degree in a variety of industries.
The course length depends on the type of program and the credential it leads to.
For example, the Automotive Technician, A.A.S. program includes 70 credits and can also lead to certificates in:
Maintenance and Light Repair

Automotive Engine Repair

Automotive Heating and Air Conditioning

Brakes

Automotive Transmission Transaxle

Manual Transmission and Drive Train

Automotive Steering and Suspension
Each one of the certificates requires around 14-18 credits.
Graduates from the Automotive Technician program can achieve the Automotive Service Excellence certification in many competencies areas.
Santa Fe Community College is accredited by the Higher Learning Commission.
Courses Offered
The following degrees and certificates are available at Santa Fe Community College:
Accounting Specialist Certificate

Allied Health, A.A.S.

Automotive Engine Repair Certificate

Automotive Technology A.A.S.

Brakes Certificate

Fitness Instructor Training Certificate

Water Technologies A.A.S.

Web Development Certificate

Welding Technologies, A.A.S.

And more
Contact Information
---
8

Early College Opportunities

About the School
Early College Opportunities is a magnet school that offers Dual Credit courses that help students transition from high school to college.
This means that high school students can enroll in college-level courses that allow them to earn credits toward high school graduation and certificate or post-secondary degree.
Courses Offered
Early College Opportunities offers the following programs:
Auto Collision and Automotive Refinishing Pathway- a program that equips students with the skills needed for employment in an auto body shop or similar setting.

Auto Tech- students who graduate from this program have basic automotive problem-solving skills in mechanical, electrical, braking, suspension, and chassis systems

Computer Science- a program that teaches the principles of computing, coding, data analysis, robotics, cyber security, and other related skills

Construction- graduates are ready for employment in entry-level positions in the construction industry.

Design- a program that prepares students for entry-level employment in design fields.

Greenhouse- this program includes Controlled Environment Agriculture courses that prepare students for work in greenhouses at home, farm, or commercial scales

Welding- a program that prepares students for certification in Shielded Metal Arc Welding, Gas Metal Arc Welding, and other welding procedures.
Contact Information
---
9

Sierra Aviation
About the School
Sierra Aviation offers training that helps students achieve a Private Pilot, Instrument Pilot, Commercial and Airline Transport Pilot certificate.
The school's fleet of Cessna 72 is available for training or rental.
The school also offers discovery flights that include 30 minutes of ground training and 30 minutes in the air and cost $100.
Flight and ground instruction costs $62 per hour.
Aircraft rental fees are as follows:
$135 per hour for a 1976 Cessna 172M

$139 per hour for 1982 Cessna 172P

$145 per hour for 2001 Cessna 172R
The flight training covers three steps:
In the first phase, students learn how to control the airplane.
They start with elementary elements like climbs, descents, straight-and-level flight and turns, and progress to landing and other more complex procedures.
The second phase involves learning navigation, flight at night, and flying the airplane using only the instruments.
The final phase consists of honing the students' skills to meet the FAA standards.
FAA requires applicants to have at least 40 hours of flight training before taking the practical test.
Contact Information
---
10

Paseo Pottery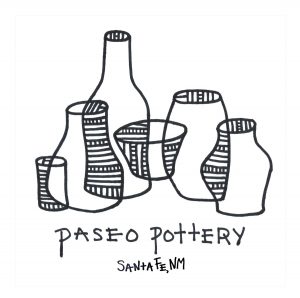 About the School
Paseo Pottery is a ceramic studio and gallery located in Santa Fe.
Pottery classes are also available, and 100 percent of the net profits are donated to local charities.
The classes are one-time and last two hours each.
The training focuses on touching, forming, and manipulating clay into works of art.
At the end of each session, students recycle their work back into the clay mound.
Courses Offered
The following courses are available:
Wheel-throwing experience- a two-hour class that costs $100 and teaches students the basic techniques of creating pottery using the potter's wheel.
Students learn how to center the clay on the wheel and how to make cylindrical shapes using various techniques.
The wheel-throwing classes are available for students above the age of 9.
Hand-building experience- a $100 class that covers the ancient techniques for building forms by hand using slab building, coiling, and making pinch pots.
Hand-building classes are available for all ages and the class allows students to use their imagination to create works of art.
Private classes are also available for groups of at least eight people and cost $100 per student.
Contact Information
---
Final Thoughts
Now that you have read our list of trade schools available in the Santa Fe region, it's time to continue the research and choose the path you want to take.
Before deciding where to enroll, we recommend that you take into account all the factors that are relevant to your decision, including tuition costs, curriculum, and schedule.