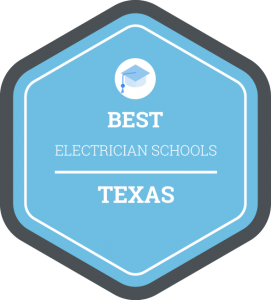 Methodology
Get Ranking Seal
If you want to start a career that allows you to use technical skills, dexterity, and physical strength, the electrician trade is worth exploring.
In our day and age, skilled electricians play an important part in making our homes and businesses safe and habitable.
This profession requires a lot of responsibility and before being ready to work as an electrician you have to complete some specialized training.
Most electricians learn the ins and outs of this profession through an apprenticeship but post-secondary programs that last two years or less are also available at technical schools and community colleges.
To help you choose the format that works best for you and your lifestyle, on this page we have compiled information about the best electrician schools in Texas.
---
Sponsored Listings
---
1

South Texas Electrical J.A.T.C.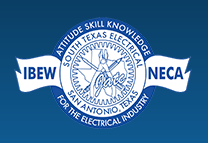 About the School
South Texas Electrical J.A.T.C. provides elite training and education opportunities for individuals who seek to start careers as electricians in San Antonio and the surrounding areas.
The apprenticeships offered through South Texas J.A.T.C. combine on-the-job training with classroom instruction and follows a nationally recognized curriculum.
During this time apprentices earn a salary that starts at $15.10 per hour plus benefits.
The salary increases during the training period.
To qualify for admission to an apprenticeship, applicants must be at least 17 years of age and they must be at least 18 years of age to participate if accepted into the program.
Prospective students also need documents such as a high school transcript, a GED, or an equivalent certificate or diploma.
The next step in the admissions process consists of an aptitude test.
This test covers two proficiencies: reading comprehension and mathematics.
A qualifying score of at least 4 is required to advance to the next stage of the selection process which consists of an interview.
Contact Information
---
2

Training Center of Central Texas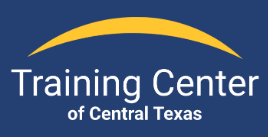 About the School
Training Center of Central Texas is a career training school located in central Texas.
The school offers certification programs in a variety of fields.
Courses Offered
The Training Center of Texas provides a Construction Electrician Program that can be completed in as few as six months.
The curriculum is designed to introduce students to the electrical trade.
After completion of the program, students are awarded a Certificate issued by the Training Center of Central Texas.
To complete the program, students must attend 22 weeks of classroom/laboratory training and earn a final grade point average of 70% or more.
The curriculum includes classes such as:
Electrical Fundamentals: this class covers Ohm's Law, NEC Codebook, material types, multimeters and tools, AC & DC fundamentals

Residential Wiring: in this class, students learn about residential-specific NEC, grounding, and bonding of a residential system, how to wire a residence, identify materials specific to the residential sector, and how to use AFCI and GFCI protection

Commercial Wiring: students learn how to run conduit, pull and terminate wires, read blueprints, and safe underground installation procedures

Specialty Locations: this class teaches students how to identify hazardous locations, the differences between installation standards, how to make terminations on motors, complex switching, use of drawings, and how to identify and install different types of light fixtures

Management & Productivity- the class covers blueprint layouts, the importance of managing material and manpower, keywords and schedules of the prime contractor, how to file RFIS, inspections, and punch lists
The school also offers a six-week Solar Energy Technician training program.
Contact Information
---
3

Austin Career Institute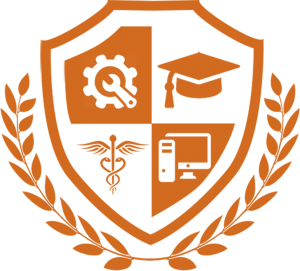 About the School
Austin Career Institute provides training programs for individuals who want to start careers as medical assistants, HVAC-R technicians, or electrician technicians.
Grants are available and some can cover 100% of tuition for students who qualify.
Courses Offered
The Electrical Tech program can be completed in 6.5 months and leads to a Certificate.
Students receive ACI's nationally accredited Advanced Electrical Technician Certification.
Graduates are ready to apply for an Apprentice Electrician license through TDLR and qualify for entry-level positions in the commercial and residential electrician industry.
The program teaches students a variety of useful skills, including how to:
Define the units of measurement that are used to measure the properties of electricity

Explain the relationship between voltage and current in RL circuits, RC circuits, LC circuits, and RLC circuits.

Select, install, and support pull and junction circuits and feeders in some hazardous locations

Calculate loads for residential and commercial applications

Keep records and use industry paperwork

And much more
Contact Information
---
4

AVO Training Institute

About the School
AVO Training Institute offers Electrical Safety and Electrical Maintenance Training for more than 57 years.
The school focuses on offering students hands-on experience in a real-world environment.
The courses specialize in Electrical Safety & Electrical Maintenance, Electrical Certification, Cable Training, Electrical ARC Flash Risk Assessment, Online Arc Flash Safety Awareness, Electrical Consulting Services, On-site Electrical Training, and Custom Electrical Training Course Development.
In total, more than 50 courses are available at AVO Training Institute.
The institute provides in-person and virtual courses.
Courses Offered
The following programs are available:
Electrical Safety

Electrical Maintenance

Electrical Fundamentals

Cable Courses

Safety Standards | National Electrical Code

Virtual, Instructor-Led Training
The school specializes in Electrical Maintenance programs such as Substation Maintenance, Protective Relay Maintenance, Circuit Breaker Maintenance, Cable Splicing and Terminating, and more.
Electrical Fundamentals courses are designed for maintenance personnel and teach them how to stay safe and keep from damaging electrical equipment.
Contact Information
---
5

The Contractors School

About the School
The Contractors School offers a variety of programs that prepare students for licensing exams and future careers.
The school provides a home study computer program with real practice tests, professional tutoring from live instructors, and live seminars and webinars.
Courses Offered
Programs are available for:
Journeyman Electricians

Master Electricians

Residential Wireman Electricians

Residential Appliance Installers

Journeyman Sign Electricians

Master Sign Electricians

State License Test Preparation Contractor Exam prep is available at the school.
The school reports a 90 percent first-time pass rate.
Students learn in a practice testing environment that simulates the actual state exam.
The school offers computer-simulated state-specific practice tests with more than 1,000 questions similar to those included in the actual exam.
The correct answers are explained step-by-step.
Contact Information
Address:

 5901-J Wyoming Blvd NE #203, Albuquerque NM 87109

Phone:

 (505) 382-0651 (Administration)

Website:

 

https://www.prepathome.com
---
6

Independent Electrical Contractors

About the School
The Fort Worth/ Tarrant County Chapter of Independent Electrical Contractors is a national trade association that offers a support system for electrical contractors, apprentices, journeymen, master electricians, suppliers, or distributors.
The organization also offers an open shop electrical apprenticeship.
Classroom and online education are available.
To qualify for admission into an apprenticeship, applicants must meet some requirements, including:
Be at least 18 years of age

Provide a valid photo ID or driver's license

Provide proof of four years of high school or GED equivalent

Be able to pass a drug test

Be physically capable of performing the essential functions of the apprenticeship program
Journeyman and Master Exam Prep and Refresher Courses are also available.
The apprenticeship lasts four years and includes a minimum of 8,000 hours of on-the-job training and at least 576 hours of classroom work.
During the apprenticeship, students earn a wage that starts at $13 per hour.
They receive periodic raises after completing certain training milestones.
Contact Information
---
7

West Texas Electrical Training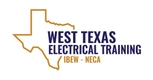 About the School
West Texas Electrical Training provides apprenticeships that allow students to earn while they learn.
Students receive complete apprenticeship training, healthcare benefits, retirement plans, and earnings while they learn.
The West Texas JATC is associated with the Electrical Training Alliance, which is a collaboration between IBEW and NECA established more than 70 years ago.
Two locations are available: Amarillo and Lubbock.
Applicants must be high school graduates or have a GED or a Certificate of High School Equivalence or have a two-year Associate's Degree, its equivalent or higher.
The completion of at least one full year of high school algebra or equivalent with a grade of "C" or better is another application requirement.
Applicants must be at least 18 years of age at the time of registration but otherwise qualified applicants may be registered by the JATC before turning 18 if the state law allows.
The apprenticeship includes 8,000 hours of on-the-job training and 900 hours of in-class training over four years.
The starting apprentice pay is 50 percent of journey worker pay.
Apprentices receive raises at six to nine months intervals.
After completing the apprenticeship, graduates advance to journey worker status.
Contact Information
---
8

North Texas Electrical Apprenticeship and Training Committee Electrical Training Center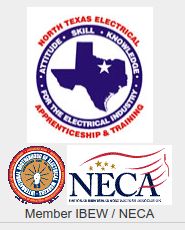 About the School
North Texas Electrical Apprenticeship and Training Committee Electrical Training Center offers electrical Journeyman and Apprentice training programs.
The committee is also affiliated with North Lake College of the Dallas County Community College District.
Apprentices learn in state-of-the-art training facilities and receive wages, paid health insurance, and pension benefits.
College credits are also available for apprentices who want to also earn an associate's degree in the electricity field.
Apprenticeship applicants need the following documents: a driver's license, social security card, birth certificate, and an official high school transcript.
The following courses are also available at North Texas Electrical Apprenticeship and Training Committee Electrical Training Center:
Electric Vehicle Infrastructure Training Program

OSHA 30

OSHA 10
Contact Information
---
9

Texas Electrical Safety Association
About the School
Texas Electrical Safety Association promotes electrical safety, training, and education.
Courses Offered
A Journeyman Exam Review Class is available at the school.
This class is designed for those who prepare to take the Journeyman Electrician Exam.
The course teaches students how to reference the NEC code book to find definitions, wiring methods, electrical equipment, special occupancies, and other information that can be applied to real projects.
Students also review calculations for electrical services, feeders, branch circuits, motors, and many other topics.
This course costs $225.
The current work experience requirements for the licensure exam are 8,000 hours or four years of on-the-job training under the supervision of a Master Electrician.
Free continuing education classes are also available.
The Texas Department of Licensing & Regulation requires four hours of Continuing Education per year to renew your electrical license.
Contact Information
Address:

 5710 West 34th Street, Houston, Texas 77092

Phone: 

713-688-2000

Website:

 

https://tesa34.com
---
10

Lamson Institute

About the School
Lamson Institute is located in San Antonio, Texas, and provides career-based programs for technical, in-demand careers.
The class sizes are limited and flexible scheduling options are available.
The programs are designed to prepare students for industry certifications.
Lamson is accredited by the ACCET and the ACCSC.
The Electrical Technician program costs $18,060.
This cost includes tuition, books, supplies, uniforms, and fees.
Lamson Institute is accredited by the Accrediting Commission of Career Schools and Colleges as a branch location of the Institute for Business and Technology, Santa Clara.
Courses Offered
The institute provides an Electrician Training program that provides hands-on, practical training in electrical coding, wiring installation, conduit bending, motors, and transformers systems, and manual and electric industrial controls.
The program is designed to help students master the skills they need to obtain their first job.
Lamson graduates are ready for the Electrician Trainee certification.
Contact Information
Address:

 5819 NW Loop 410, Suite 160, San Antonio, Texas 78238

Phone:

 210-465-1794

Website:

 

https://lamson.edu
---
Final Thoughts
Now that you have read our list of the best electricians schools in Texas, it's time to continue the research and apply for the format that best fits your learning style, budget, and career aspirations.
Take your time and make an informed decision.
Featured Online Programs
Sponsored Online Programs.